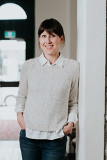 Speech Pathologist, Clinical Educator & Researcher, School of Occupational Therapy, Social Work and Speech Pathology, Curtin University
Key Interests
Dr Cartwright has focused her research on finding evidence for word finding, communication and psychosocial interventions for people living with dementia and their families.
Jade is particularly interested in developing strategies to support people in the early stages of primary progressive aphasia, enabling proactive coping and continued life participation. Jade's research has investigated the implementation and evaluation of Montessori-inspired models of care in residential aged care settings as a pathway to more person-centred care.
Jade has also worked with an international team of researchers to develop use of Virtual Learning Environments to enhance interpersonal communication skills training for the care partners of people living with dementia.