The cards provide an on-the-spot point of reference for health professionals and care staff working with people with dementia.
The Quick Reference Cards are a guide only, to remind or prompt interventions and raise points to consider, including the next steps to take. We recommend you refer to the resources they are based on for more comprehensive and detailed information.
Flip Cards
A set of 15 colour-coded cards that address:
10 common BPSD and delirium
recommended assessments
recommended frameworks
The Flip Cards are designed to be quick to use and easy to access; hang them on a hook on the wall or slip them into your pocket. The summaries in the flip card series are informed by the DBMAS Behaviour Management – A Guide to Good Practice: Managing Behavioural and Psychological Symptoms of Dementia, and have been distributed with that larger suite of resources linked below.
Lanyard Cards
Two cards featuring three checklists:
How well am I communicating?
Understanding the behaviour being observed.
Getting to know the person living with dementia.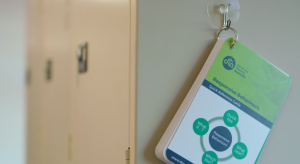 Quick Reference Cards may be printed without alteration for in-house use only. They are not to be distributed or edited without permission of Dementia Training Australia.
Flip Cards
Lanyard Cards
Resources to support the management of behaviours and psychological symptoms associated with dementia (BPSD):
Behaviour Management: A Guide to Good Practice (BPSD Guide)
The document Behaviour Management: A Guide to Good Practice, Managing Behavioural and Psychological Symptoms of Dementia (BPSD) is a comprehensive overview of evidence and practice-based management principles for BPSD*. This resource is designed for clinicians with a role in caring for people with dementia in residential aged care facilities (RACFs), community care and acute care settings. The BPSD Guide provides guidance for clinicians supporting family members and carers as well as RACF and community care staff caring for people with dementia who present with BPSD.
Behaviour and Psychological Symptoms of Dementia Guide for Clinicians App
An app developed to provide guidance for clinicians in their role of assisting residential aged care facility staff, community care staff and family members caring for persons living with dementia, who present with behavioural and psychological symptoms. This App provides summary information relevant to the most commonly presenting behavioural and psychological symptoms of dementia (BPSD): […]
Care4Dementia App
This App was developed to provide information and support for carers in their role of caring for persons with behavioural changes that can occur in dementia. Information on what these behaviours look like, why they might be happening and what you can do to help is included for those most commonly reported by carers. Understanding why behavioural changes are occurring can help to manage the behaviour.